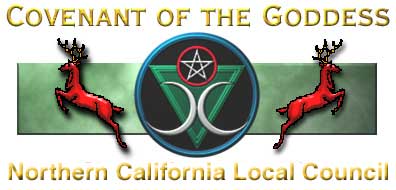 Statement on Police Violence against People of Color
Northern California Local Council (NCLC) of the Covenant of the Goddess
We, the Northern California Local Council (NCLC) of the Covenant of the Goddess, abhor and decry the murders of Black people by the police forces of cities around our nation. We stand in solidarity and agreement that Black lives DO matter. We recognize that Black people have suffered disproportionately in our society from the militarization of police forces, draconian policies on drug enforcement and incarceration, to the many social and political policies designed to demonize and marginalize this community.

We stand against all forms of racial violence wherever it is found. We stand against the violence done to our brothers and sisters of color in the name of justice. We stand against violence to women, hate crimes motivated by religious intolerance, prejudice, and ignorance. We stand firmly against the current trend toward the militarization of the police, the continued erosion of our individual freedoms and constitutional rights, and a justice system which is so clearly failing the growing class of working poor, and shrinking middle class.

As NCLC continues to be active in local, national, and international interfaith work, we want to increase our message of solidarity in the fight for the equality of all people, especially People of Color, and bring attention to the lack of justice in the most recent tragedies of the deaths of black men by law enforcement.

For local news and updates on these issues please check our Facebook page at Covenant of the Goddess Northern California Local Council regularly.
---
From here you can go... Back to NCLC COG Home Page or
Back to Rowan's Home Page