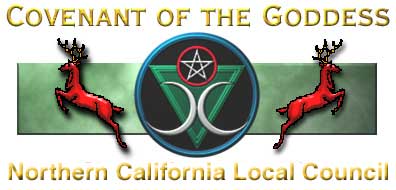 ---
Welcome to the the WWW home page of the Northern California Local Council of Covenant of the Goddess.
Guide to Resources in Northern California
---
Information about COG in general:
COG Overview - A brief history and description of COG
Press Packet general information on the religion of Wicca.
Click here to learn more about our national organization or go to the COGWEB pages directly.
Covenant of the Goddess Blogs
---
The Magic Mirror says you are the
person to visit this page since March 1, 1996. This site came online in September 4, 1994.

If you have any comments or questions about COG or the NCLC web pages, please mail them to NCLC@conjure.com.

Thank you for visiting The Northern California Local Council's Home Page!
---
---
---

last revision: 2/22/2011
---
Back to Rowan's Home Page