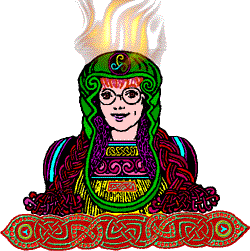 Rowan's Celtic Compendium
Beannachd Leibh! I have decided it is time to break this giant page of Celtic resources into smaller bits so that it is a bit easier to get around. I hope you enjoy the new look! Mar sin leat.
Links to the Pages on Specific Countries
Explore Culture, Travel, Language, Lore and more.
Scotland | Wales | Cornwall | Ireland | Mann | Bretagne | Galicia

Links to the Pages of Links by Specific Topic
Links to directory pages and general FAQs on Celtic topics.
Resources for Celtic activities in the Bay Area.
Languages of the Celtic Nations.
Folklore, Myth, Tales and Legends.
Celtic Paganism and Celtic Christianity.
Cultural offerings - music, poetry, arts and crafts.
Books, music, jewelry, artwork and more.

You are the person to visit Rowan's Celtica Compendium
Artwork copyright 1994 Rowan Fairgrove
---
Wishing for more? Search Amazon.com!
---

Back to Fairgrove Conjureworks Bibliography list
Back to Fairgrove Conjureworks