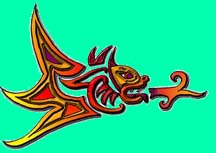 Shopping
Import Stores/Books and General Merchandise
An Ayrshire bookseller on the web.
Antiquarian and Out-Of-Print Books, specializing in Scotland, Ireland, Celtica, including books for Gaelic learners. Also offers information on Clan MacKay and other topics.
A Celtic Cybershop, Purveyors of just about anything and everything Celtic. Irish, Scottish, British, Welsh, Cornish, Pictish and Breton. With notable offerings in: Religion, Spirituality, Mysticism and various other areas of general interest.
New, Out-of-Print and rare book service in Limerick, Eire.
Books, jewelry, instruments etc. Turn off image loading.
High quality rugs and wall-hangings with a variety of Celtic designs. Based in County Mayo.
Unicorn Ltd's pointers to Celtic businesses.
Importers of Welsh/Celtic jewelry, recordings, books and more.
A variety of Irish/Celtic goods, secure transactions, supporting children's causes in Northern Ireland.
Welsh and Celtic books and jewelry and leather goods from Australia.
A Waterford, Ireland-based crystal manufacturer. Blown by mouth . . . shaped, moulded, cut and polished by hand . . . Such is the essence of Heritage Irish Crystal.
Painted bodhrans, knitware, china and much more are on offer from this Dublin shop.
Celtic collection, pewter belt buckles, cuff links, match box cases, wine holders, chess sets and more.
The Celtique Boutique and other shops - jewelry, walking sticks, lovespoons, music and more.
Kilts and tartan items, gifts and more.
Celtic gifts and medieval design unusual presents at affordable prices.
A wide variety of Welsh gifts - jewelry, music, woolens, pottery and more.
Wonderful cheeses, preserves and other food, along with gifts and books from Wales.
Artist Anita Gallagher handcuts sterling silver Celtic brooches and rings.
Jewelry
Extraordinary artisanship, handmade wedding and engagement rings.
Garth Duncan's fabulous Celtic and Scottish blades, traditional and custom jewelry.
Premier Celtic pewter designers offer a mail order catalog and info on their work.
Jewelry and fine art by James E. Boyle & Beth Maxwell Boyle using Celtic and farm themes.
Silver and gold jewelry and supplies for the Irish and Scottish dance communities.
Music and Art
A record label offerings a searchable catalog of music from the Celtic lands.
Fine supplier of instruments and music. Bodhrans, etc.
Celtic lap harps, concerts and classes in the Seattle, WA region.
Supplier of harps and harp recordings, harp music books, harp history books, harp accessories and many other things for the harp lover, including Sylvia Woods' own recordings.
A documentary exploring the legend and reality of Kind Arthur and his relevance to the current renaissance of Celtic culture.

Information on the availability of Mr. Davis' fine Celtic art.
The fabulous art of Jen Delyth is available on t-shirts, as jewelry, on silk scarves and more. Visit the gallery and read her comments about various pieces.
Garth Duncan's fabulous Celtic and Scottish blades, traditional and custom jewelry.
Cards and t-shirts, Celtic graphics for web design.
Online Celtic Alphabet chart generator, plus a variety of kits and charts for all levels of stitchers. (located in Ireland)
---
Wishing for more? Search Amazon.com!
---

Scotland | Wales | Cornwall | Ireland | Mann | Bretagne | Galicia |
General Info | San Francisco Bay Area | Languages | Lore | Spirituality | Music & Art | Shops |
Artwork copyright 1994 Rowan Fairgrove
Back to Celtica Index Page