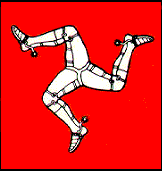 Isle of Man
Manx Culture and Links
Information about the Isle - tourism, business, sport, events, history, language and more.
Heritage, proverbs, links and more.
An encyclopaedic collection of sites Manx.
Collection of over 450 Manx traditional tunes gathered together by Colin Jerry in his book Kiaull Vannin. Also links to Manx folk groups and more.
Manx Gaelic
Manx Gaelic: Chengey-ny-Mayrey Vannin, resources for Manx Gaelic & Manx studies.
Manx lessons, dictionary and more.

Scotland | Wales | Cornwall | Ireland | Mann | Bretagne | Galicia |
General Info | San Francisco Bay Area | Languages | Lore | Spirituality | Music & Art | Shops |
Artwork copyright 1994 Rowan Fairgrove
Back to Celtica Index Page